Environment and Energy: We act!
Renewable energies and the reduction of CO² emissions are key issues of environmental protection. That is why the operators of the BernsteinSee were looking for a solution to secure the energy supply for our hotel buildings in an alternative and sustainable way. The result is a trend-setting concept and the first plant of its kind in Lower Saxony. In the future it will be open to interested professional visitors as part of guided tours.
Completely without Emissions
In cooperation with the company EXYTRON from Rostock, an innovative concept is currently being implemented that draws energy from renewable sources and generates it in a closed system completely without emissions. Electricity is generated using solar power and fed into an electrolysis cell in which water is broken down into water and oxygen. The hydrogen is fed into a catalytic converter, where it is refined together with CO² methane, a natural gas (SNG), which is stored and then burned if necessary. This takes place at BernsteinSee in its own, modified combined heat and power plant, which supplies heat and electricity for hotel operations. Since the combustion takes place exclusively with the previously generated and also stored oxygen, only CO² no nitrogen oxide (NOx) is generated in the exhaust gas.
The CO² completely captured and returned to the process cycle for the production of methane. This prevents harmful emissions from entering the environment.
Both the self-generated methane and the electricity are completely self-consumed. There is no feed into the public power grid.
In the near future, about 70% of the energy requirement will be produced ecologically and more than 130 tons of CO² will be saved each year.
A self-sufficient energy supply is aimed at in the medium term.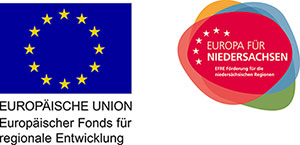 After a comprehensive examination, the Investitions- und Förderbank Niedersachsen (N-Bank) has classified our complex project as eligible. In mid-2018, the BernsteinSee had already received a promise from the Lower Saxony Ministry for the Environment, Energy, Building and Climate Protection that the cost-intensive project would be supported with a large grant.
Our reception will be glad to help you:
Monday to Sunday from 9 a.m. to 5 p.m.
To the Restaurant Website
To the Real Estate Website